Compliance. People. Companies.
Strategy. Solution. Implementation.
– Services –
Consulting Covering all Facets of Corporate Compliance and Governance
Dr. Kathrin J. Niewiarra develops tailor-made concepts for your requests and those of your company based on her holistic approach.
She stands for personal consulting tailored to your needs – whether preventive, accompanying or as lessons learned.
She cooperates with proven specialists from her bleu&orange® Network to provide interdisciplinary consulting, which she puts together individually and in relation to your project.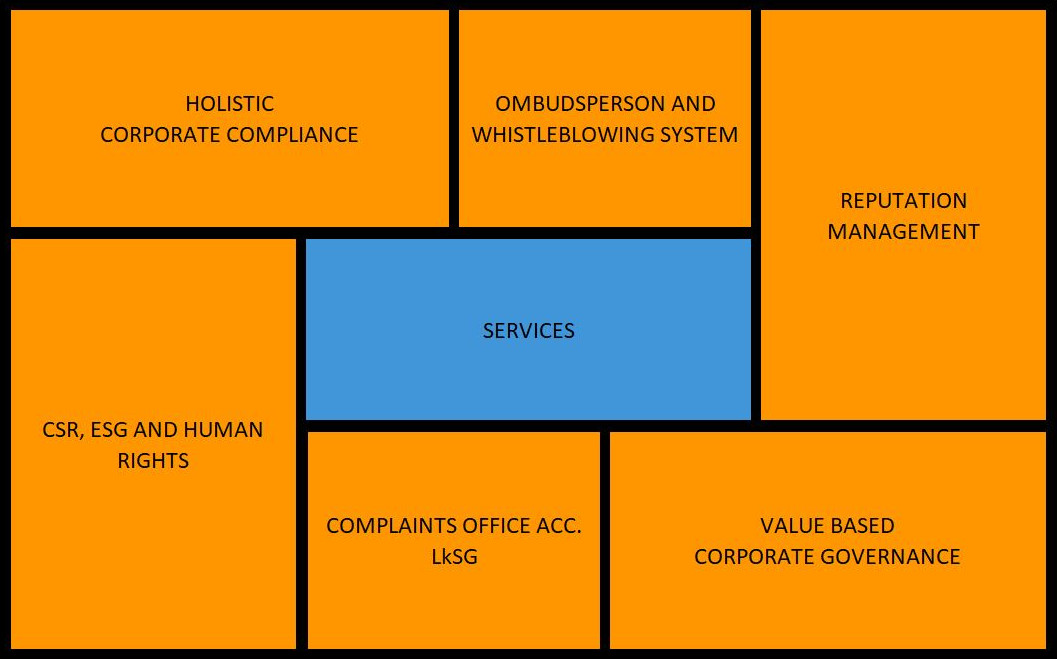 1. Holistic Corporate Compliance = Compliance is More than Law and Order.
Comprehensive, value-oriented consulting and support in establishing and implementing Corporate Compliance in accordance with the principles of the honorable businessman with a focus on people.
2. CSR, ESG and Human Rights = Compliance and Sustainability go Hand in Hand.
Integrated concepts and practical implementation according to legal requirements for the entire supply and value chain with my interdisciplinary bleu&orange® Expert Network.
3. Ombudsperson / Complaints Office according to LkSG / Whistleblower System = The Focus is on People.
A system tailored to your needs which offers points of contact with legal as well as person-centered expertise, including the use of internet-based whistleblowing systems.
These companies trust us as their Ombudsman Office:
BECKER & KRIES Unternehmensgruppe
Bergische Industrie- und Handelskammer
BR Berlin Recycling GmbH
BRITA Gruppe
C. Melchers GmbH & Co. KG
CosMed GmbH & Co. KG
IGEL Technology GmbH
mbo Oßwald GmbH & Co. KG
Meininger Holding GmbH
Melchers (Malaysia) Sdn. Bhd.
Melchers Music Pte Ltd (Singapore)
New Frontier GmbH
Nexus Analytics Pte Ltd
Nexus Analytics Sdn Bhd
Patek Philippe Asian Distribution Pte Ltd
Schrödinger GmbH
SFC Energy AG
Solarwatt Gruppe
Elisabeth-Stiftung
Stadtwerke Burg Energienetze GmbH
Stadtwerke Burg GmbH
Team Medical & Scientific Sdn Bhd (Partner of Nexus Analytics Group)
The Quality Group Gruppe
Unternehmensgruppe Stadtwerke Ahlen
WKW Gruppe
4. Value-oriented Corporate Governance = It all Starts with Values.
Support in the establishment and implementation of a value strategy for your company – anchor and live corporate governance and compliance as well as your values not only in your code of conduct, but as part of your corporate strategy.
5. Reputation Management = Your Reputation is your Survival Insurance.
In cooperation with leading experts from my bleu&orange® Network, we support you to make your reputation (compliance-)crisis-proof.
Dr. Kathrin J. Niewiarra:
"Properly understood, integrated and implemented, holistic Corporate Compliance, including a value strategy tailored to your business, is a smart choice and contributes to your company's sustainable success."